Join us at Platt Park on Saturday, March 31st, for the 13th Annual Easter Egg Hunt! The fun begins at 10:00 am, but come early to enjoy a donut and meet some new people. Kids, be punctual—the eggs clear out quickly!!
Prizes, donuts, coffee, and more. Enjoy this annual neighborhood tradition!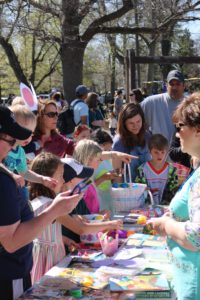 We'd love to get your help! It takes a lot of candy and a lot of organization to bring together this super-sized egg hunt. These are some of the ways you can help out:
Bring donuts
Buy small toys for the prize table
Buy candy and stickers for the eggs
Help stuff eggs prior to the event
Help set up for the event
Staff the prize table
Help clean up
Contact Dawne Hostetter if you can help out with any of these things, or if you have any questions.
We hope to see you there!